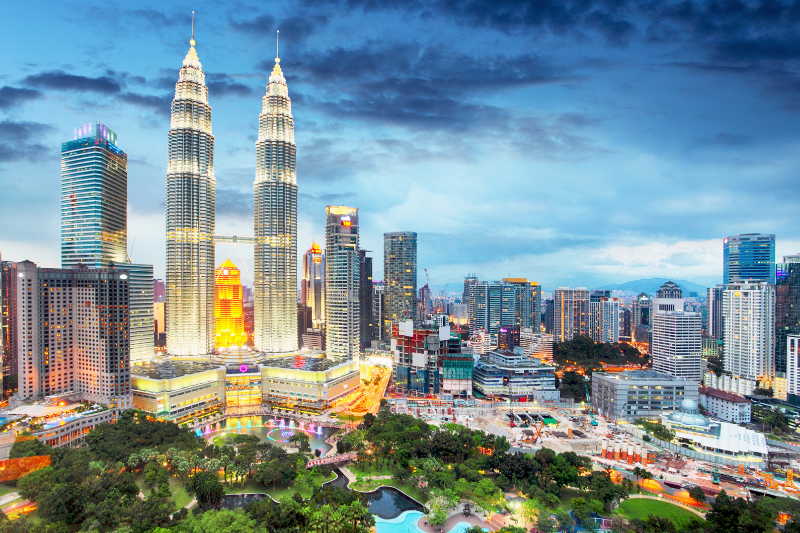 10 Jan

Down and Poised to Rise: Why Malaysian Stocks Deserve a Place in Your Portfolio

This article was first posted on 10 January 2022 and updated on 11 April 2022.

The Singapore-Malaysia causeway is on the verge of reopening again after being closed for 20 months.  

While the land border with our northern neighbour has been closed since March last year, trade continues to be brisk between Singapore and Malaysia. 

In 2021, the two economies engaged in S$128.7 billion worth of merchandise trade, ahead of the US and second only to China. 

As it stands, Singapore's gross domestic product (GDP) is slightly ahead of Malaysia's GDP …

…. but our neighbour may eventually take the lead.

With a population that is six times larger than ours, Malaysia's runway for growth is undoubtedly longer.  
Malaysia's Road to Recovery
Like many other countries around the world, Malaysia's economy took a beating from the COVID-related curbs. 
Things could change soon, though. 
Around 76% of Malaysia's total population has been vaccinated including over 95% of its adult population. All but two states in the country have been classified as being in the final stage of recovery.
With the loosening of restrictions, companies such as Nestle Malaysia (KLSE: 4707) and Dutch Lady Milk Industries (KLSE: 3026) are seeing higher revenue and profits turn up in 2021. 
Nestle Malaysia recorded a 5.9% year on year increase in revenue for 2021.
Similarly, for 2021, Dutch Lady reported a near-340% year on year jump in profit, a welcome development.
Translation: recovery is on the way and starting to accelerate.
To support the recovery, the Malaysian government has also unveiled its largest ever budget, allocating RM 332.1 billion for 2022. 
Around RM 14.2 billion has been earmarked for viable companies listed on Bursa Malaysia. On the flipside, the special one-off "prosperous tax", will be levied on high-income companies.
The investments could provide the support that the economy needs to recover.
The Gateway to the Islamic Economy
Meanwhile, Malaysian exports have had a stellar year.
Our northern neighbour's exports rose past RM 1.2 trillion, achieving 99% of its 2025 target four years ahead of schedule.
Malaysia stands out by acting as the gateway to the Islamic economy. 
The Muslim population is expected to grow to 2.2 billion by 2030, according to Pew Research Centre.
Our northern neighbour bills itself as the undisputed leader in the Islamic finance industry, holding a 48% global share of sukuk issuance in 2019, more than twice the share of Saudi Arabia, its closest competitor. 
 According to the Asian Banker, Maybank Islamic, a subsidiary of Maybank (KLSE: 1155), is the fourth largest Islamic bank in the world by the value of assets held. 
At the same time, Malaysia is also the world leader in the halal industry. 
The establishment of a systemic halal assurance system and a globally recognised halal certification helped pave the way to a halal industry with an estimated market value of US$2.3 trillion.  
It's no wonder that Nestle Malaysia has designated the country as its main hub for halal products that are shipped to over 50 countries. 
Likewise, Dutch Lady has been a halal dairy producer since 1963. 
Late last year, the dairy product manufacturer further committed to turning a new development in Enstek, Negeri Sembilan into a major halal hub.  
Other companies are also taking notice, Fraser and Neave Berhad's (KLSE: 3689) recent acquisition of the halal-certified Sri Nona was done with an eye on the growth potential that halal food offers.  
Get Smart: Down and Poised to Rise
So, here's the thing …
… the KL composite index (KLCI) has had a tough run for the past 20 months. 
In other words, share prices have been beaten down for the most part since the pandemic started. 
Granted, falling stock prices are discouraging. 
But for David, his mantra is to always stay focused on what matters the most: the business — especially when it is the business that helps to pay dividends to investors like us. 
From David's viewpoint, lower share prices also means higher yields.  
And if you know David, he is unlikely to pass on a nice dividend yield that is backed by businesses that are likely to be around a decade or more from now. 
This is your chance to tap into David Kuo's decades-long experience in one sitting! We have released a Special Free Report that outlines his strategies for 2022 and beyond. If you're looking into dividend stocks next year, then this FREE report will be invaluable to your success. Click here to download now.
Disclosure: David Kuo owns all the shares mentioned. Chin Hui Leong does not own any of the shares mentioned.