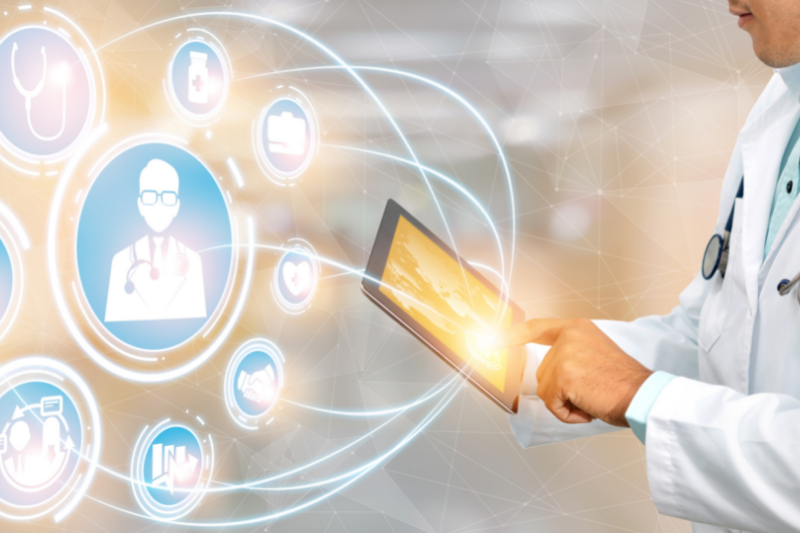 12 Apr

Here's Why Healthcare Stocks Are Poised to Do Well Over the Next Decade

Health has always been important and is set to become even more so in the future.

The pandemic had a silver lining.

Healthcare spending, which was previously neglected by some countries, came under the spotlight.

Global healthcare spending saw 9% growth last year as global vaccination rates rose, and is poised to increase by 4.1% this year.

In fact, spending on the sector is expected to comprise 10.5% of the world's gross domestic product.

With the economic recovery, healthcare spending can only head higher as the pandemic has forced governments recognise the need to improve their healthcare systems
The silver tsunami
Amid the recovery, there is an elephant in the room we cannot ignore.
Yes, I am talking about the increase in the elderly population in the next few decades.
In Asia alone, the elderly population is expected to reach 923 million by 2050 and is on track to become one of the oldest in the world.
As we age, there is a greater chance of suffering from chronic conditions and illnesses such as depression, dementia, diabetes, heart disease, stroke, and cancer.
Older folk are also affected by geriatric syndromes that include frailty, falls, and urinary incontinence.
Hence, healthcare spending should tilt towards not just improving the lives of the general population, but should also be geared towards supporting the elderly and allowing them to age gracefully.
More effective medications
Pharmaceutical companies are at the forefront of the fight against diseases.
The COVID-19 vaccines have thrown the spotlight on both Moderna (NASDAQ: MRNA) and Pfizer (NYSE: PFE) as both companies have swiftly responded to the pandemic.
Both Pfizer and US pharmaceutical giant Merck (NYSE: MRK) have also devised a pill to treat COVID-19 and prevent severe illness.
As medical knowledge grows and more discoveries are made, pharmaceutical companies can come up with more effective medicines and treatments to boost our overall health.
Devices to heal and help
A larger population of senior citizens will also push up the demand for medical procedures and operations.
This is where medical device companies step in with a wide range of implants, equipment, and accessories.
From pacemakers to regulate heartbeat to machines that monitor one's blood glucose level, there are a plethora of useful devices to keep us healthy and happy.
The businesses that manufacture these items are also constantly innovating to improve their products and introduce new ones to help us heal better.
Companies such as Abbott Labs (NYSE: ABT) manufacture equipment to help hospitals to monitor their patients' health, while DexCom (NASDAQ: DXCM) produces continuous glucose monitoring devices to help diabetics keep track of their blood glucose levels.
Living a healthier lifestyle
Let's not forget that aside from drugs and devices, it's also important to maintain a healthy lifestyle.
And what better way to stay healthy than to work out at a gym or go for a jog?
Health club owner Planet Fitness (NYSE: PLNT) has more than 2,000 locations in the US that allow users to keep fit in a comfortable setting for as little as US$10 per month.
Weight Watchers (NASDAQ: WW) offers comprehensive diet programs and weight loss techniques that help numerous people shed their extra kilograms.
Sports apparel manufacturers and retailers such as Under Armour (NYSE: UAA) and Lululemon (NASDAQ: LULU) sell a wide range of apparel and footwear that customers can utilise when they work out.
Get Smart: A wealth of opportunities
As we survey the investment landscape, we see numerous opportunities for healthcare-related businesses to benefit.
Medical devices manufacturers come up with innovative new products that can help to monitor your health, or implants that could help you to enjoy a better quality of life.
Pharmaceutical companies are advancing on their pipeline of drugs to deliver better patient outcomes that can tackle a wider range of illnesses and medical conditions.
Aside from sports apparel businesses, there's also the nascent area of telemedicine and telehealth that are gaining traction.
There's a wealth of investment opportunities out there, and we believe you should be eager to get started on investing in this lucrative space.
For over 30 years, David Kuo has successfully built many winning portfolios. What's his secret? We break it down for you in our latest FREE special report. Discover his strategies and stock insights for 2022. Click here to download now.
Disclaimer: Royston Yang does not own shares in any of the companies mentioned.