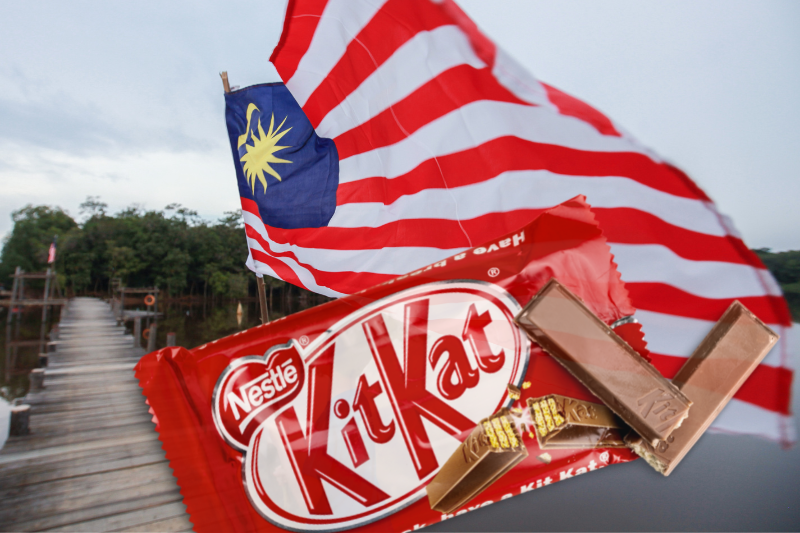 22 Aug

How David Kuo Earns Passive Income with Malaysian Stocks

When Singaporean investors look at Malaysia, many are turned off by the risks. 

Others, like my co-founder David Kuo, see opportunity. 

Having worked with David for over nine years, I can understand why he talks about the chance to earn better returns in Malaysia despite the risk. 

No, forget that. 

Instead of empty talk, David has put his money where his mouth is. Three years ago, he invested RM 300,000 of his own money into Malaysian stocks. 

This is his story. 
Real scandals, real businesses
We have seen the stories before. 
A few years ago, there was the Malaysian 1MDB scandal that rocked the nation. More recently, there is a curious tale of missing warships worth over RM 9 billion. 
Of course, these incidents do not put Malaysia in a good light.
Yet, it would be an error to paint an entire nation with the same, broad brush. 
Keep this in mind — it's important. 
If you are able to look BEYOND the national headlines and study the individual companies, then David Kuo argues that you will see OPPORTUNITY. 
Take Nestle Malaysia (KLSE: 4707). 
The Swiss company is an early pioneer in Malaysia, having set root back in 1912 selling condensed milk in Penang.
Many of Nestle's brands are household names. 
You'll know them. 
In fact, we have become so accustomed to some of its products that they can sometimes replace entire food categories. 
Instead of hot cocoa, we order Milo at our local kopitiam. 
Instead of instant noodles, we reach for Maggi mee.
And when we need a break, there's Kit Kat.    
With the company being around for over 100 years, selling products loved by both Singaporeans and Malaysians alike — this is, perhaps, as far away from the 1MDB scandal as it can get.   
Nestle is a real business generating real money. 
Familiar faces, familiar dividends
Other investors may look across the causeway and be put off by their unfamiliarity with the business environment.
There's merit to this concern. 
But there's something important investors should know, David says … 
As investors, we always have a CHOICE in the companies that we pick.
Always keep this in mind. 
Instead of obscure, unknown businesses — there are plenty of other companies, such as Nestle, which many Singaporeans are familiar with. 
What's more, for an unabashed income investor like David, there is another thing that may set investor hearts fluttering: DIVIDENDS.  
Now, that is something Nestle Malaysia investors may be pleased with. 
From 2007 to 2019, the year before the pandemic, Nestle Malaysia has more than doubled its dividend from RM 1.14 per share to RM 2.80 per share.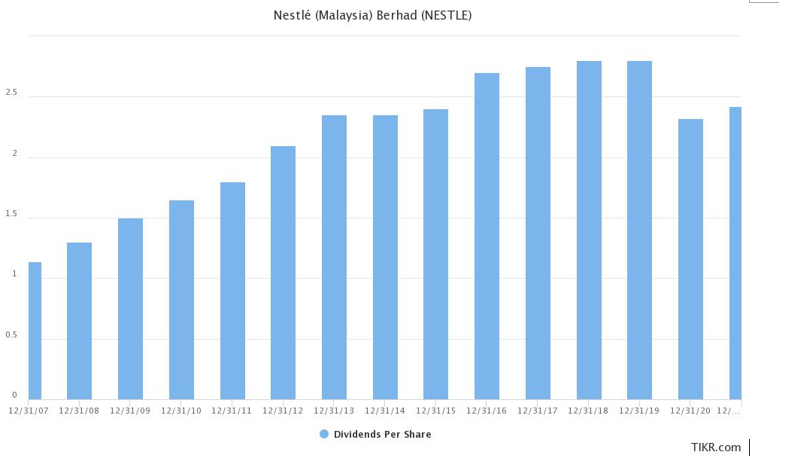 Source: TIKR
While COVID-19 has pulled a wet blanket over its business, Nestle Malaysia's business is on the mend. 
In 2021, the Swiss food manufacturer upped its dividend from RM 2.32 to RM 2.42. 
Given Nestle Malaysia's long history of sharing its spoils with investors, we may see higher dividends in the future as its business recovers. 
Get Smart: Passive income from the north
Investing in Malaysian stocks is not for everyone, of course. 
Not everyone has the stomach for the risks, the volatile ringgit, or the unflattering news that dominate the headlines from time to time. 
But if you have a taste for adventure, as David does, he will be sharing where he put his RM 300,000 to work in the coming days. 
Here's the kicker …
At the end of July, David estimates that his Malaysian Money Machine portfolio is projected to offer a 7.3% forward yield. 
For over 30 years, David Kuo has successfully built many winning portfolios. What's his secret? We break it down for you in our latest FREE special report. Discover his strategies and stock insights for 2022. Click here to download now.
Follow us on Facebook and Telegram for the latest investing news and analyses!
Disclosure: Chin Hui Leong does not own any of the shares mentioned. David Kuo owns shares of Nestle.