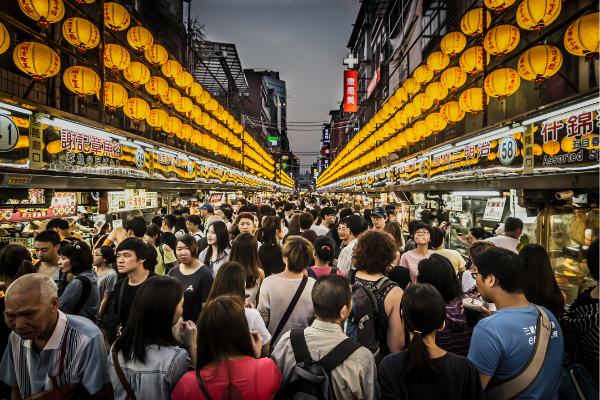 03 Oct

The Rise of the Asian Consumer

We are living in the age of COVID-19.

Naturally, most of us are adapting to change.

But there are fewer discussions around what has NOT changed.

And that's the more important point, according to Amazon.com (NASDAQ: AMZN) founder and CEO Jeff Bezos.

At first glance, it would seem like a strange argument for Bezos to make.

After all, Amazon is a well-known disruptor of industries.

But Bezos has a point.

You can build a business around things that do not change, he argues.

Consumers, like you and me, want lower prices today, and we will still love to have lower prices 10 years from now.

Likewise, customers are unlikely to turn down faster delivery today or a decade later.

These are among the key foundations that Bezos has built his business around.

His insight is simple, yet profound.

It's profitable too, with Amazon as a company worth over a trillion dollars.
The Middle Class of the World
In July 2015, Amazon introduced Prime Day, a global shopping event held exclusively for its Amazon Prime members.
The event was a huge success, generating almost US$1 billion in sales, according to Statista.
While impressive, something bigger was about to happen just four months later.
In November 2015, Chinese online retailers Alibaba Group (NYSE: BABA) and JD.com (NASDAQ: JD) headlined Singles Day, a celebration of single people.
Buoyed by a growing Chinese middle class, Alibaba sold US$14.3 billion worth of products, dwarfing Amazon's Prime Day sales.
Their success was a long time coming.
In that same year, Alibaba founder Jack Ma said that China was transforming itself from being an exporter of products to being a major consumer itself.
There will be half a billion people in China's middle class within the next five to 15 years, he said.
Today, China's middle class is part of the 2 billion Asian members who are considered to be the middle class in 2020.
By 2030, Statista and the World Economic Forum estimated that the number could rise to 3.5 billion.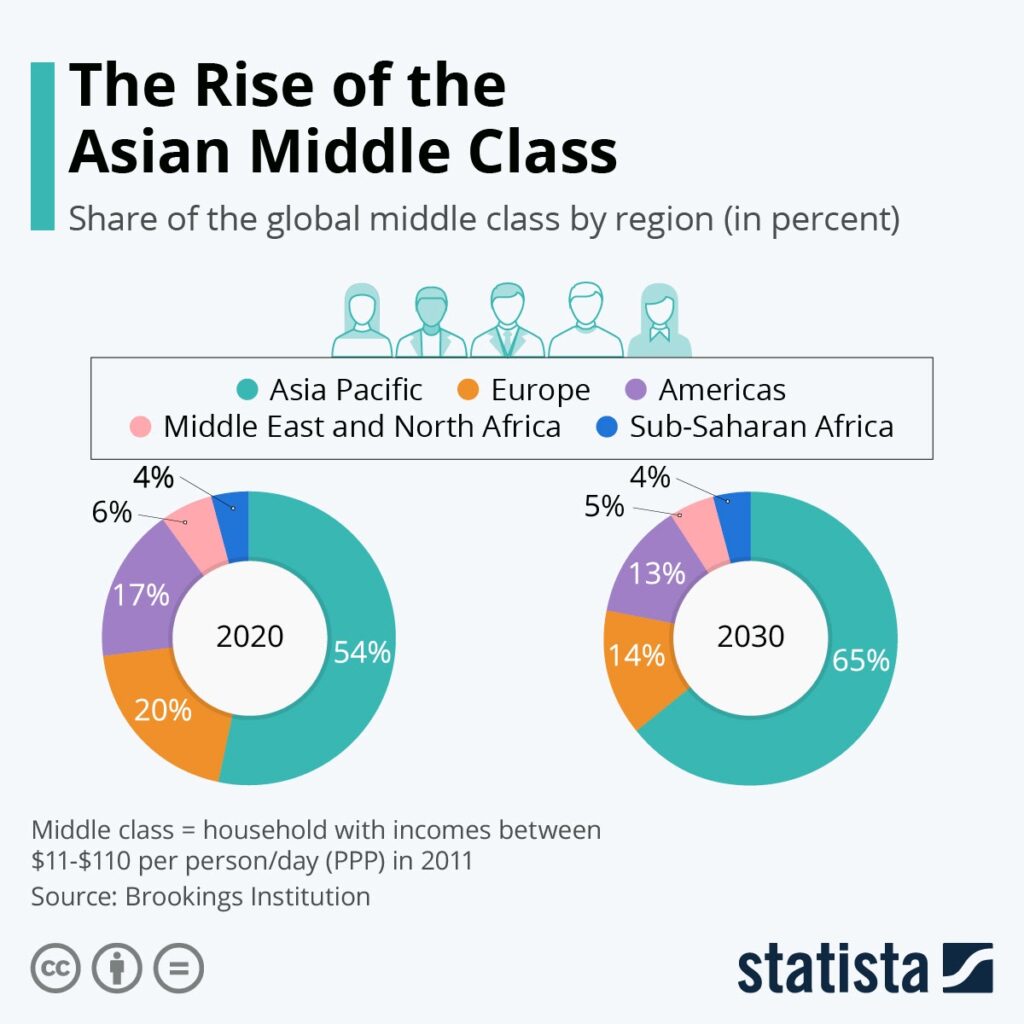 Source: Statista
In fact, the Asian middle class is expected to account for almost two-thirds of the world's middle class in 10 years, exceeding all other regions.
The land of the rising Asian sun
According to McKinsey, Asia is on track to become over 50% of the world's gross domestic product and drive 40% of global consumption by 2040.
As that happens, the centre of gravity could shift towards our region.
Companies around the world have been putting growth in Asia as a key priority.
For instance, coffee brewer Starbucks (NASDAQ: SBUX) has highlighted China as a central part of its growth strategy despite operating in the Middle Kingdom for more than 20 years.
The reason?
The average Chinese only drinks five cups of coffee per year, based on research from the International Coffee Organisation, a small fraction compared to the 500 cups per year consumed by the average American.
Apple (NASDAQ: AAPL) is another major beneficiary of rising Asian affluence. In the company's latest quarter, almost a third of its revenue came from the Asia Pacific region.
Closer to home, DBS Group (SGX: D05) counts around a third of its revenue from other Asian countries outside of Singapore.
Meanwhile, Oversea-Chinese Banking Corporation (SGX: O39) has almost half of its loans coming from Asia Pacific countries outside of Singapore.
Clearly, there is more than one way that companies around the world can benefit from the rise in the Asian middle class.
But there is one way that David Kuo, our co-founder, believes that investors can benefit.
Dividends galore
The formula is straight forward.
But it could make a big impact on your investment portfolio.
As the middle class in Asia rises, there will be more consumption.
When there is more consumption, companies stand to earn more.
As companies earn more, they have the ability to pay more dividends.
And that, dear reader, is the way that David prefers to be rewarded as an investor.
As an income investor, there is nothing more satisfying than the sound of cash hitting our bank account every quarter.
If you'd like to receive a special, limited-time invitation to find out how you can get exclusive access to 3 income-generating portfolios next week, please CLICK HERE to key in your email address.
Disclosure: Chin Hui Leong owns shares of Amazon, Apple and Starbucks