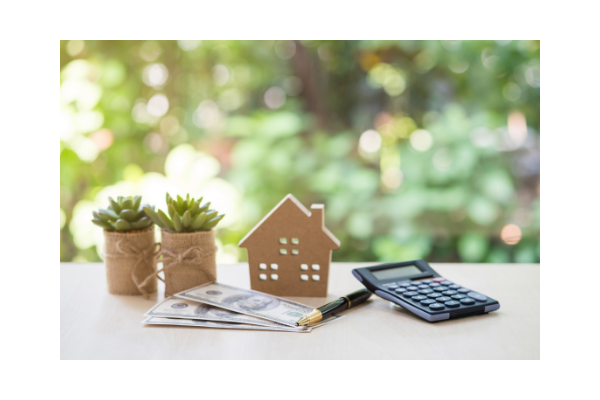 10 Oct

4 Lessons from Owning REITs for A Decade

Editor's note: A version of this article first appeared in The Business Times in January this year. Today's article is an updated version, which takes COVID-19 into consideration. 

I bought units of Mapletree Logistics Trust (SGX: M44U) in September 2006. I still own all of those units today. 

Real estate investment trusts (REITs), as a whole, have grown in popularity over the last decade. 

It's not hard to see why. 

As my co-founder David Kuo argues, REITs offer access for the common investor to own properties without the hassle of being a private landlord. You will be able to buy or sell your holdings without dealing with estate agents, lawyers or bankers. 

As an investment vehicle, REITs are also more flexible. 

If you want to, you can sell part of your REIT holdings. But if you own physical property, you can't sell your kitchen or living room and keep the rest. 

You can see why REITs are compelling. 

David certainly thinks so. His property-based portfolio, Kuo's Income Portfolio (KIP), has over 70% invested in REITs located locally and abroad. 

For investors who are interested in REITs, there are plenty of choices available too. 

An abundant market 

Today, the Singapore stock exchange is recognised as one of the region's hubs for REITs. 

You'll be able to find REITs with properties in Australia all the way to the US. The type of properties on offer ranges from hospitals to hotels and industrial buildings, all of which are typically out of reach of the individual investor. 

Simply said, the choices of REITs that you can buy today are abundant. 

It's up to you to decide what you want. 

Over time, my stable of REITs has grown to seven income-producing shares, three of which I owned for more than a decade. Here are three traits that I look for:
A sustainable business 
The sustainability of a REIT can come in different ways.
The location of the properties can make a difference. Frasers Centrepoint Trust (SGX: J69U), another REIT that I own, has three major malls located in growing HDB townships that are underserved.  
The REIT's property slate is expected to grow with its acquisition of AsiaRetail Fund Limited.   
Meanwhile, having a multinational sponsor such as CapitaLand or Mapletree Investment also helps as the parent can provide a pipeline of properties that the REIT can acquire in the future or use to expand abroad. 
Sponsors can also become partners when it comes to redeveloping older properties, providing another avenue of growth. 
Major trends can also propel the demand for properties that REITs own. 
Based on UN projections for Singapore, elderly folk above 65 years of age are expected to make up 28% of the total population by 2030 and 47% by 2050. In Japan, 40% of its population is expected to be 65 years or above by 2050. 
ParkwayLife REIT (SGX: C2PU), which owns hospitals in Singapore and nursing homes in Japan, is able to tap on the growing demand for healthcare as the elder population in both countries grows in number.   
Adaptability 
The pandemic has emptied out shopping malls around Singapore. 
Retail dollars made a hard turn towards online stores as the government's circuit breaker measures bit in. At the peak, online sales accounted for 25% of Singapore's total retail value in May.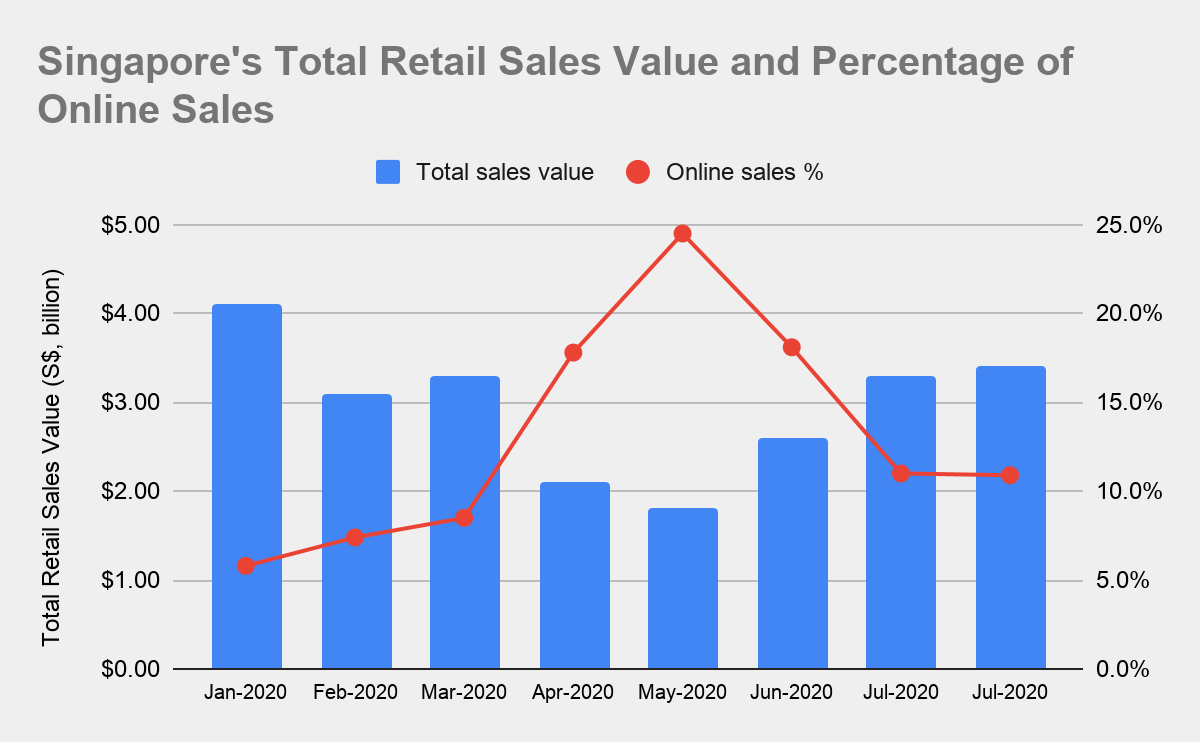 Source: Singstat
As as we entered Phase 1 and Phase 2 in June, the retail dollars reversed course and flowed back to the brick and mortar stores. 
But not all of it. 
Online sales accounted for 11% of total value, a sharp fall from May's peak but still higher than where it was in January this year. 
It's not a secret that online shopping has been a threat to shopping malls, even before the pandemic.  
Certainly, retail malls cannot rest on their laurels. 
Today's shopping mall, for instance, cannot simply be a place to buy things alone. It has to be more than that, offering a better all-round experience and options to do things that cannot be done online. 
Frasers Centrepoint Trust and CapitaLand Mall Trust (SGX: C38U), both REITs that I own, has certainly taken the lead in defining how shopping will work in the age of the coronavirus. 
Both REIT managers have stepped up cleaning procedures for common areas, and launched online sites for food and merchandise. 
As investors, that is what we want — REIT managers that adapt to changing consumer tastes. 
There are encouraging signs that brick and mortar stores can hold their own.
According to Frasers Centrepoint Trust, tenant sales are close to pre-COVID levels in July and August, despite shopper traffic still languishing well below normal.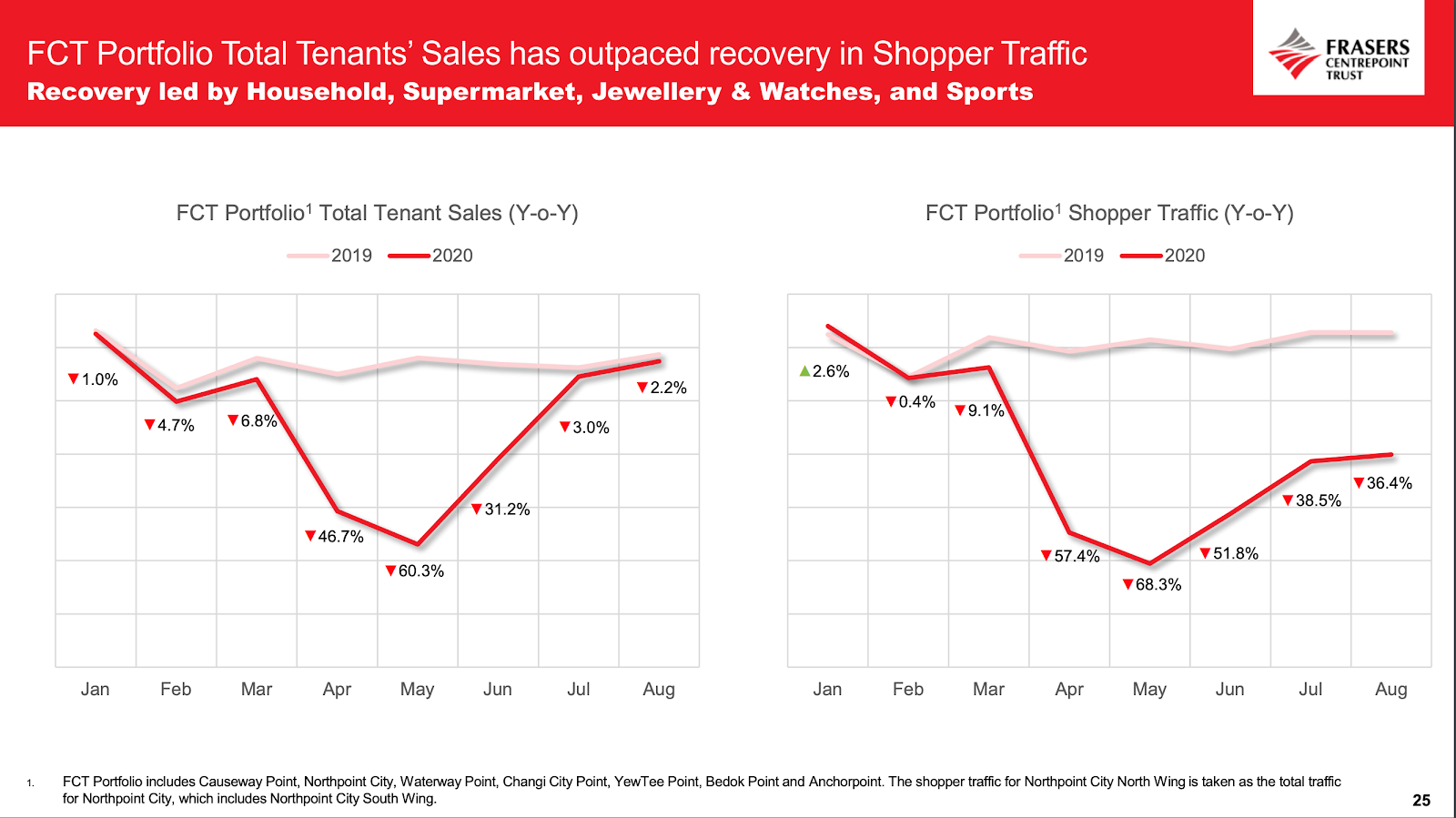 Source: Frasers Centrepoint Trust's presentation slides
More change will continue to happen. 
Again, shopping malls can no longer be about places to buy things alone. 
The old, mediocre shopping experience that has passed its prime. And we should expect REIT managers to adapt accordingly.
Growing distributions
Business growth is great to have. 
But it will not be as good if that growth does not translate into higher distributions for investors like you and me. Growing distributions reward long-term investors as they payout increasing amounts for the same amount of capital invested. 
For instance, when I first invested in ParkwayLife REIT in April 2009, units were offering around a 10% yield. Today, those same units are yielding over 18% in distributions. 
So, what happened? 
Simply put, the underlying distributions for each unit I own grew from less than seven cents a unit to over 13 cents a unit over the last 10 years. 
All we had to do, as investors, is to have the patience for the growth to play out. 
Stepping out of Singapore for growth 
David does not only own REITs within Singapore. 
There are REITs listed overseas that offer even more variety than what is available in Singapore. 
For instance, American Tower (NYSE: AMT) is an American-based REIT that owns cellphone towers that are in high demand as telcos shift toward 5G. 
Owning the REIT allows you to participate in a growth trend while receiving growing income. Between 2012 and 2019, dividends has increased almost four-fold from US$0.90 to US$3.78. 
It's a performance that is hard for any Singapore REIT to match. 
Get smart: For the Smart Investor in You
Companies can come and go. Business models can change or be disrupted. 
But a well-located physical property is not as easy to disrupt. 
As REIT investors, there is great benefit in knowing that the properties that REITs own are likely to be around years from now. 
The pandemic has put the idea of owning REITs to the test. 
But recovery is on the way. 
If we have the patience to hold these units for the long haul, we can be rewarded both in our pockets and in our mind. 
Our peace of mind, that is. 
After all, isn't that why we invest in the first place? 
To be able to spend less time in the office and more time doing the things that we enjoy. 
If you would like to hear more for us … 
LAST DAY! we are opening up seats to our exclusive service, David Kuo's Income Portfolio. 
Go on a behind-the-scenes journey with David as he builds a brand-new income portfolio investing in the next big thing! It's by invitation only, so do register your interest here! 
Disclosure: Chin Hui Leong owns all the shares mentioned.